In the second part of this two-part exclusive, former Sunderland manager Gus Poyet opens up to The72 on his regrets during his time at the club, and the key things he picked up at Brighton which proved crucial to keeping Sunderland in the Premier League.
Poyet managed Sunderland between 2013-2015 and despite a poor ending, his time in the north east is looked back on by many with fond memories. He became the latest name to save Sunderland from relegation in the most exceptional circumstances, he gave Sunderland fans bragging rights over their rivals three times running and oversaw a trip to Wembley in the 2014 League Cup final.
It's impossible to spend a large amount of time in the Premier League and not have regrets and when asked what regrets he has from his time at Sunderland his answer was mainly centered around player recruitment and issues behind the scenes. Speaking to The72, in partnership with Fruityslots, he said:
"I thought I was clear in my second season about what was needed. I always asked myself if there was a different way of dealing with signing a player. A sporting director, so we can get clear characteristics. It was close to the minimum you would expect to compete in the Premier League," he explained. "The ones that you want, for some reason you don't get them.
"Then you go in a different direction, not close to the characteristics that you need. A better way maybe would be saying 'no, I don't want that player'. How can you deal with that situation in a better way to get players closer to what you need? I paid the price. I always went back saying 'why did I say no, why did I do this' – too many whys!"
These sort of problems make succeeding so much tougher for a manager. But, thankfully for Poyet he had past experience which would come to prove crucial during his time in the dugout at the Stadium of Light. Poyet's first managerial job was at Brighton. At the time of his arrival the club were in a relegation fight down in League One. Poyet managed to keep the Seagulls up quite comfortably before going on to win the league the year after.
Poyet told The72 what he took from his Brighton success when trying to keep Sunderland above the drop four years later. He said:
"Be simple, don't over complicate things too much. Also, trust the players. They are the ones to save you! You can be a master tactician, but they're the ones playing. I discovered my formation for life by accident, we decided to work and reinforce it. Then in the second season I added players for that system, and we won the league. How much you learn during difficult periods is so important."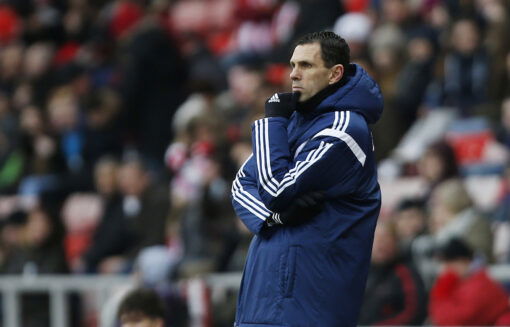 The 55-year-old manager wasn't blessed with the most exciting Sunderland squad in recent times, but he maximised their output in key moments and that ultimately got them over the line.
What he did have was a wealth of experience. The likes of John O'Shea, Wes Brown, Phil Bardsley and Lee Cattermole were all integral parts of Sunderland's survival in the 2013/14 campaign, and Poyet admitted their presence was key when travelling to face an unbeaten Jose Mourinho's Chelsea at Stamford Bridge.
"It was key, if you saw my press conference, I said it's over. Then against Everton we played decent but lost and people said we're down. We then had a game against Chelsea, away to Manchester City and to United? They say you've got no chance. Once we turned it around at Stamford Bridge, I knew. It was the first time Mourinho lost at Stamford Bridge. At home I just knew. Everyone in the world was trying to get in contact with me to ask how. These players, they've done something great I would say. The experienced players were the core."
Sunderland are now taking a slight emphasis away from using experienced players in favour of bringing young prospects to the club with the scope of developing them and selling for a profit later down the line. The method appears to be working at the moment, and Poyet understands the desire to have those exciting talents at your disposal. But, he does admit leadership is key.
"I like certain experienced players, leaders. But for the coaches now, quality young players are the best thing you can have – you can show them how to play. You can give them the information to make them the player you need. The older ones, they know how to play. They listen to you but say 'yeah, alright!'. I think now the coaches, they love to work with quality young players."
Since his time at Sunderland Poyet has had spells in Ligue 1, LaLiga and is now currently the manager of Greece's national side. He has enjoyed a successful first 18 months there and it remains to be seen what his future in management holds. His passion is still bubbling though and his feelings on his time at Sunderland remain as positive as ever.