Leeds United didn't make a massive splash in the summer transfer market, instead relying on selective loan deals in areas supposedly seen as needing strengthening.
Two of the players Leeds United brought in were highly rated young midfielders Lewis Baker (Chelsea) and Jack Harrison (Manchester City).
It is fair to say that neither Baker nor Harrison have set the Whites alight during their half-season on loan so far. £4.95m rated Baker has featured 11 times in the Championship, gaining 220 minutes of on-field time. During this time on the pitch, he hasn't scored nor assisted a Leeds goal.
Harrison, on the other hand, has performed slightly better having featured 15 times, gaining 879 minutes on the pitch. During this playing time, the Manchester City man has scored one goal (in a 1-1 draw against Millwall) and added one assist (in a 3-2 win against Blackburn Rovers).
However, the consensus of opinion amongst Leeds United fans is that they aren't giving the value that many thought that they would do. To this end, many fans wouldn't be too sorry to see the duo returned to their parent club.
On this subject, the following question was asked to Sun reporter Alan Nixon by a Leeds fan after Nixon had said that Sheffield United and West Brom had signed up to promises of game time for Everton loanees Kieron Dowell and Mason Holgate.
Will Leeds be getting penalty clauses with Baker and Harrison? Neither really doing much

— lufcmat (@Mathew1982) December 31, 2018
Nixon's retweet (below) gives his thoughts on the matter: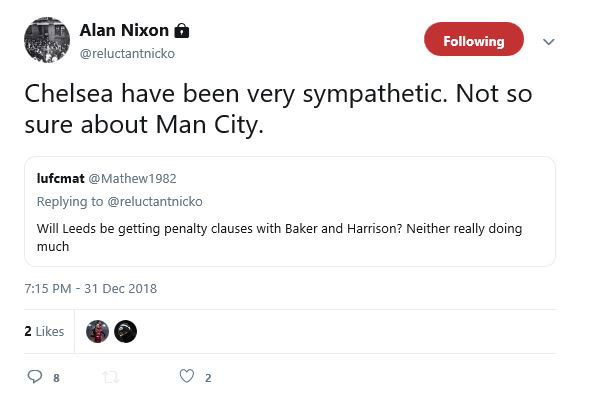 It is becoming a common thing now for loaning-out clubs to insist on clauses that loaned out players receive game time. If this is not so, 'penalty clauses' written into loan agreements are often used to penalise those clubs that loan players and fail to give adequate game time.
Obviously, the worry is that Leeds United might be penalised for not playing Baker and Harrison enough, not giving them the exposure that Chelsea and Manchester City expect. According to Alan Nixon, that worry seems unfounded on the Chelsea front, although it is a little unclear what City's intentions are.