Whilst the footballing world is coming to terms with the passing of Ugo Ehiogu, fans are taking to social media to put out their heartfelt condolences as a means of relaying just what memories they have of the man, and how he affected them.
Ehiogu made 429 appearances in his career as a footballer, including four for England, the majority of these (248) for Aston Villa, for whom he scored 13 goals. He also featured for Middlesbrough (141 appearances – seven goals), Sheffield United (27 appearances – one goal), Rangers (seven appearances – one goal) and Leeds United (six appearances – one goal).
It is with these links that many fans are coming forward across Twitter to express how they feel, to pass on whatever crumbs of comfort that they feel they can to those like them who may read whatever it is that they post. It is usually with heartfelt words and poignant images.
But not BBC Sport's official Twitter site who published the following 'tribute'.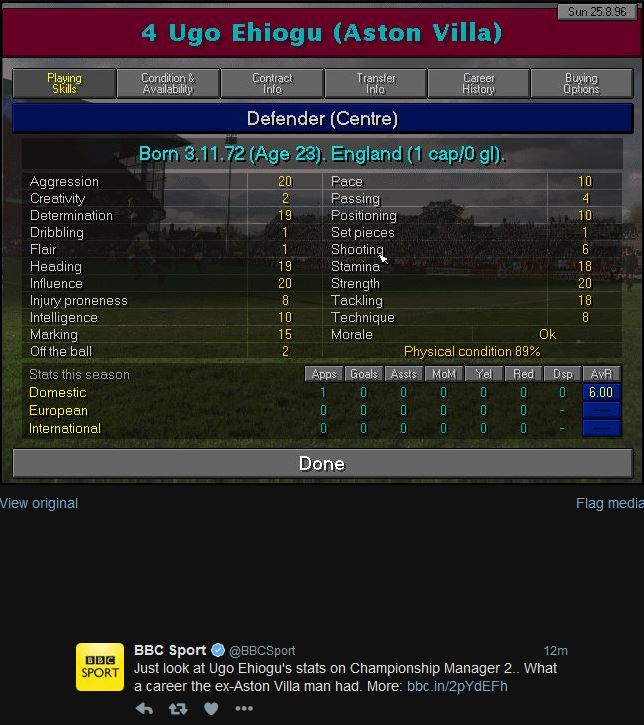 What someone with an itchy Twitter finger did, before it was rightly deleted, was to upload a screenshot of Ugo Ehiogu's stats from Championship Manager 2, an early iteration of a popular football computer game.
Twitter users were quick, and rightly so, to jump on the post and criticise what many would feel is the gross insensitivity that led to someone thinking that such a post is acceptable as a tribute to Ehiogu's sad passing.
Football fans respond to BBC Sport 'tribute' post – sense of anger rightly felt
Bad language that doesn't even come close to the bad judgement shown in the original posting.
Probably delete it at least. Can't believe someone went "fuck Ugo Ehiogu's gone" lets check out his Champ Man stats

— milky (@milkyrules) April 21, 2017
The Football Ramble have it nailed in this RTd post.
BBC Sport med solid måte å markere bortgangen til Ugo Ehiogu som døde av hjerteinfarkt bare 44 år gammel. Tweeten er slettet nå. pic.twitter.com/AWM43KOO2b

— Lars Erik (@eispeis) April 21, 2017
Sun journalist Fred Nathan, like many, have taken a copy of the tweet.
BBC sport on twitter really are abysmal

— John Murray (@jamuzzle) April 21, 2017
This Twitter user is another one who pretty much strips it back to the barest essentials of insensitivity.
https://twitter.com/Mesut1079/status/855350729787281408
And the sense of incredulity is also felt here by Twitter user Dan.
https://twitter.com/danrhb/status/855355950932389889
Personally, I cannot begin to imagine whatever it was that sparked the 'you know what, this is a fitting tribute' though in whoever put the original post together then tweeted it out for, potentially, the world to see – I really cannot begin to fathom it.
But it was out there, I say was because, thankfully, it has since been deleted. Insensitive it was, uproar it caused, an apology of some sort you would expect.
Ugo Ehiogu – Requiescat In Pace