The summer may bring sunshine to the town of Blackpool, and lure droves of visitors back to its sandy shores. But at Bloomfield Road, the clouds of uncertainty and disillusionment will continue to gather darkly.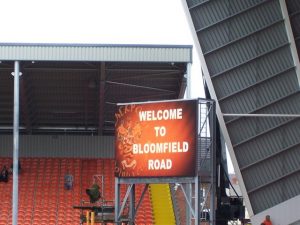 By the end of March, Blackpool FC had used over 50 different players in their season's starting XI. They finished bottom of the Championship having achieved just 4 wins from their 46 fixtures. Their final match, against Huddersfield, was abandoned due to a fans' protest on the Bloomfield turf. Their Chairman is openly at war with matchgoing fans. They have the worst playing surface in the Football League, and their crowds are dwindling. And, earlier this week, manager Lee Clark walked out of the club. How did things get this bad?
Ask most Tangerines fans, and they'll point you in the direction of the Oyston family – and most pertinently, Karl Oyston, the current Chairman of Blackpool FC. Whilst Blackpool's Premier League campaign of 2009/10 saw many fans show a grudging understanding of Oyston's refusal to invest substantial sums into the club, his austere attitude to the club has increased, at a time when investment is most needed. In December 2014, Tim Fielding, the chair of the Blackpool Supporters Trust depicted the relationship between Oyston and supporters as being "at breaking point".
On the final day of the season, the tug of war between the controversial businessman and the Bloomfield Road faithful finally saw the last fibres of the rope snap. Fans streamed onto the pitch at half-time, in an outraged show against the man who had told the fans to judge him once this season was over.
In the intervening period, Karl Oyston had been forced to apologise for calling one disgruntled fan a "retard", distastefully displayed a personalised car number plate saying "OY51 OUT" to aggravate the fans, and withheld vital funds from the club despite having become a regular member of The Sunday Times Rich List thanks to his personal business success. But the fans who want to see the Oystons exit the club have a struggle on their hands. The club and the community have had binding ties with the influential Oyston family for several decades.
The fans, though, do have a more sympathetic pair of ears in the club's upper echelons. Blackpool FC President and Latvian businessman Valeri Belokon spoke to the Blackpool Telegraph to protect clubs from suffering the underinvestment and maltreatment that he describes as the "Oyston problem". Whilst there may well be self-interest underpinning Belokon's willingness to join with BFC Supporters Trusts to buy the club this summer, he is at least willing to champion the cause of the club's supporters. And that, right now, is a great deal more than most fans feel the Oystons are willing to do for them.