With the League 2 season kicking off in a few days, Stevenage fan Perry Hewitt gives his thoughts on the young looking squad:
What are your expectations going into the new season?
This is the third consecutive season with a new-look Boro side, so it's difficult to place expectations of any kind on the team. It's been a solid pre-season campaign but lessons have been learnt about expecting too much. I'd say a finish closer to relegation than the play-offs would be a big disappointment, but truly anything can happen.
What do you make of the summer signings?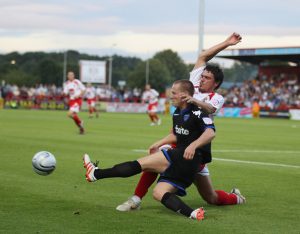 There's a good mix in the side, which is very promising. We have some added experience from returning faces Ronnie Henry and Chris Beardsley, plenty of players with League Two and League One promotions to their name, and a couple of exciting talents from non-league. Everything is catered for and it's a well-balanced squad in all.
What game are you looking forward to?
I think the immediate thought of all Boro fans is Luton Town. Our 2010 Conference-winning campaign saw us surprisingly beat Luton to the punch and something of a rivalry has grown from it. As such, there's a desire for Boro to repeat 2009-10 and nick a win at Kenilworth Road.
Who do you think will be the star player this season? Why?
Graham Westley isn't really one for star players, but I think there's a lot of expectation on Bira Dembélé this time around. He had a good start at Boro as we started to show signs of recovering our strong defensive record towards the end of the season, and he has a habit of getting goals in the bargain.
With such a young squad, who do you think will break into the first team?
After relegation was all but confirmed last season, we saw a smattering of youth talent on show. The particular favourite of the management appears to be Ryan Johnson, and providing he doesn't go out on loan there's a chance he could receive the opportunity to break through. Otherwise, pre-season has hinted that two new signings, Tom Pett and Adam Marriott, are likely to come straight from the non-league into the first-choice starting XI.