Young Players to keep an eye on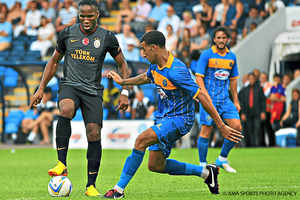 Connor Goldson is a highly rated 21 year old centre back who has come through the clubs academy. He was out of contract at the end of last season but chose to remain at the Greenhouse Meadow despite an offer from the Premier League club Swansea City. The reason for this was he felt playing first team football would benefit him more rather than play Under 21 football for Swansea.
Goldson has everything that you would look for in a centre back. He is strong, great in the air, surprisingly quick and has good passing ability too. If he manages to repeat his performances from last season then he may attract even more interest from teams in the higher divisions.
Another young player to watch is Ryan Woods who usually plays centre midfield but filled in superbly at right back last year.  He won player of the year for the club last year despite only being 20 years old and playing out of position. He was one of the few positives to come from a dismal campaign and will look to get a starting role in his preferred position in the middle. Woods has good balance,can pick a good pass and is not scared to take on players.