Is it that time of year again? Feels like just yesterday I was swearing at my television and crying into my copy of "From Hobby to Obsession" as Peterborough United crashed out of the League One Play-Offs to eventual runners up Leyton Orient.
But as last season's somewhat anti-climactic ending is repressed along with the 2012/13 season (I still hate you Jedinak), a sense of optimism has begun to grip the city of Peterborough. This, I believe, is not least down to the sense of change around the club. Changes that say to the League One title, we are coming for you. Although only three men have been brought in so far, off the field changes have also helped to drum up that sense of optimism.
Reasons To Be Cheerful
Two signings completely new to London Road are taylor made (If you'll pardon the soon to relevant pun)  for Posh. Pace, energy and determination. The three characteristics that have been plastered all over the performances of Darren Ferguson's reign as Posh boss. Characteristics that many a fan had feared were lost in the last two seasons. The fans had been calling for 'the old Posh'. The Posh that would win through attack, the teams that would concede four, but score five. Entertainment is what the fans wanted. Even manager Darren Ferguson was able to swallow some of his pride and admit where he went wrong. Admitting he had been too focused on tactics in the previous two campaigns. The Scot admitted excitedly that he is looking forward to a Peterborough United season defined by "width" and "pace". The two new faces at London Road epitomise everything the fans had been wanting.
Jon Taylor (Get it?) was first in the door. The young nippy winger signed from relegated Shrewsbury Town and was revealed as a "little surprise for Posh fans" over twitter by the much loved Peterborough Chairman Darragh MacAnthony. The signing was met with a unanimous sense of delight amongst Posh fans. There was an overwhelming feel of 'he is exactly who we need' coming from all Posh fans on social media. The rapid scouser managed to notch an impressive nine goals during the 2013/14 season. Not that remarkable? Well, when you consider he is a man who played ninety per cent of games on the wing, in a struggling side, whilst also providing countless assists, and still comes out as the clubs top scorer, I think this points to a player who has had a top season.
Love for Taylor grew further amongst the Posh faithful when Darragh MacAnthony once again broke some news via his twitter account. He revealed that even when the winger was signing his contract, his agent was still receiving calls from other clubs offering 50% more than what Peterborough were offering. MacAnthony wrote: "Even when the player was signing forms, other League One managers were on the phone offering 50% more wages to his agent. Love a player who picks ambition over greed!" So do supporters. We love to hear that money is not the reason a player wants to pull on our shirt. That he wants to play for us because our staff sold the club to him, and that he buys into our ethos. There was never any doubt in Taylor's mind where he wanted to be playing football this campaign. No matter how many managers (I'm looking at you Karl Robinson) tried to, in the words of the Chairman, "hijack" the move, Taylor remained one hundred per cent certain that choosing Peterborough was "definitely" the best decision".
Remember when the legend that is George Boyd first signed for the Posh? He was dubbed 'The White Pele' by Stevenage fans and Chairman Darragh MacAnthony. Well now Mr MacAnthony believes that in Ehrun Oztumer, we have 'The Turkish Messi'. No pressure. Oztumer signed, filling the gaping creative hole in front of our front two attackers. Again this was brilliant! Another attacking player to add to Taylor on the wing. Oztumer also follows in a long and illustrious line of non-league players to sign for the Posh. He follows in the footsteps of London Road legends like Aaron Mclean and George Boyd. So surely Oztumer will have just as big of an impact. Again, no pressure. The 23 year-old scored 33 goals in 49 games for Dulwich Hamlet from midfield. Oztumer also appears to be the potential solution to another of last seasons problems.
In the 2013/14 campaign, there was far too much reliance on Britt Assombalonga to score the goals. Although he took on this task very well, the closest any other Posh player to his 33 goals was Tommy Rowe on nine goals. Although others pitched in with three or four each, it always felt like we were lacking another goal scorer. Posh fans want a return to the days of 'The Holy Trinity' when Craig Mackail Smith, Aaron Mclean and George Boyd would all be on at least 15 goals, with the former two pushing on for 30 each.
"It is a big opportunity for me and one I am very much looking forward to. I want to bring exciting football, I like to get on the ball and create and I want to score goals." Ehrun's interview was music to many Posh fans' ears. A player who plays the game because he enjoys it. Someone who plays for the club because they suit their style.
I, like I think many Posh fans, had begun to fear we were being treated as a step-ladder by players who only join us as they see we have a reputation of developing young players and sending them up the leagues, and this reason alone. We feared that players had just begun to think that, if I sign for them I'll be playing in the Premier League in a couple of seasons. Easy. Take for example, Kyle Vassell. The Bishop Stortford striker was signed by the Posh in November 2013. In his first interview with the club he announced
"Don't get me wrong, it's a great level for me to play at and a great opportunity, but I don't see myself finishing there.
"So going to a great club like that with a track record of moving players on as well, it's ideal for someone like me."
Way to endear yourself to the fans Kyle. Yeah, you're an alright club, but this is just a stop gap on my way to the top.
Maybe I'm being a bit unfair.
But anyway, back to Oztumer. Manager Darren Ferguson has already expressed how impressed he has been with the young Turk's performances in training. Ferguson said how he has been "wowing" the other players with his skill and that he can beat "three players with ease". Yet another player attribute lacking at London Road last season. Flair. Someone to get bums of seats. Lee Tomlin did this in flashes when he wasn't suspended, but no one consistently. Mark Little you could argue got people to their feet, but his forward bursts, although exciting, always seemed to lack any finesse or control. A bit like a child running after their ball into traffic. And there was rarely an end product apart from a scuffed shot or a rushed pass. There has also been a lot of talk of whether Oztumer would play straight from the off, having not experienced life as a full time professional training every day. There were concerns that his fitness may not be on the same level as the rest. But when it was revealed that the 23 year-old would wear the coveted number ten shirt, people began to believe that he was here to play. And I say why not? Yes, he maybe raw and naive. And he may not last a full ninety minutes week after week just yet. But he is who we have been lacking. A player who can make something out of nothing. Pick a pass that no one else could see. Be brave enough to take people on.
Now what we needed was a leader. Someone who would put their body on the line for the club. Someone who could head the ball further than most could kick it. Someone like… I don't know… Gaby Zakuani?
This 'new' signing could prove to be our best one of the summer. 'The Great Wall of Congo' returned to London Road after half a season in Greece. "It's like I never left" said the man mountain on his return. Well, we sure noticed you'd gone Gaby! Many believe, and me included, that our lack of a consistent centre back pairing was one of the factors that cost us last season. Bostwick and Zakuani, Bostwick and Knight-Percival, Brisley and Knight-Percival, Alcock and Brisley, Baldwin and Bostwick, Alcock and Baldwin, Knight-Percival and Baldwin were all experimented with. But nothing seemed to work. Perhaps because the management team did not commit to one for long enough, I'm not sure. But what I do know is that a solid centre back pairing used continuously through a campaign brings success. Morgan and Westwood were behind the 2007-08 promotion to League One. Morgan and Zakuani in the 2008-09 rise to the Championship. Bennet and Zakuani in the rise to the Championship via the Play-offs in 2010-11, and a successful 2011-12 Championship campaign. Gaby was part of three of those successful campaigns. This experience will be vital when playing alongside an inexperienced Jack Baldwin.
But this move did not bring unanimous optimism like the previous two. As well as the three successful campaigns Gaby has had at the club, he has also been a near ever present in our two relegations from the Championship. In the 2012/13 season he recieved constant criticism for his lack of passing ability. Sharp intakes of breath could be heard around London Road whenever he had the ball at his feet in defence. Surely with the passing style Darren Ferguson wants Posh to embrace, there is no room for those unable to pass accurately further than 5 yards. Then there was that infamous final day at Selhurst Park. Nearing the end of half time, Posh had a precious one goal advantage that would see them safe, but then a corner was whipped in, and in the melee that insued, Zakuani rashly tripped Gabbidon. Glen Murray converted the spot kick and Posh were back in danger.
So why should this man be given another chance? Because he, like Taylor and Oztumer, is exactly who we need. It's all very good and nice playing tippy-tappy passing in matches. But at League One level, if you do that, you can get bullied physically, and thus, not be allowed to play this style. So you need players who do not mind getting hurt. Players who put the club before their own wellbeing, and players who can help mould the many youngsters at London Road.
But what of the current crop of Peterborough United players? Are there any reasons to be cheerful there? In a word -Yes.
Jack Baldwin is a player that when he was first signed, for a hefty price tag, came with great expectations. But the defender admitted that he was disappointed with his early performances and understood why he was getting some stick from the fans.
"I can imagine after my debut that the fans were wondering why on earth the club had signed me,
"I'd been patient waiting to see some action, but conceding a penalty in the last minute of my first appearance wasn't what I had in mind."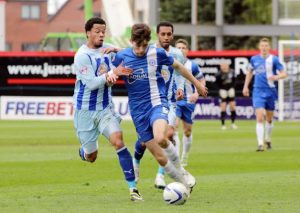 But since his debut at Crawley, Jack's performances have improved dramatically. He received torrents of praise for his "immense" performances in the Play-offs against Leyton Orient, where he continuously put his body on the line. With Chairman Darragh MacAnthony revealing he turned down a £2million bid for a Peterborough player (Widely thought to be Baldwin) the 2014/15 season is set up to be a defining year for the 21 year old.
Jermaine Anderson is another Posh youngster hoping the coming season will be the season he stamps his name on a regular first team spot. Continuing his theme of comparing his players to legends of the game, MacAnthony has dubbed Anderson as Peterborough's "Viera". In fact, to be talking about the midfielder having a 'breakthrough' season is strange considering he only turned 18 in May. He has already racked up 17 appearances for the first team. It could also be argued that the youngster had already "stamped" his name on a first team spot last season after a run of games in the winter. But three things are lacking from his game at the moment. Consistency, confidence and goals. If he improves these three, I can't see him being out the starting XI a lot. The fact that these are the three main problems with an 18 year-old is massive cause for optimism.
Another cause for optimism comes from Anderson's fellow youth graduate and midfielder, Tom Conlon. The 18 year-old play maker was the youth team's shining light as they progressed impressively to the fourth round of the FA Youth Cup. A free kick specialist, Conlon managed to get two goals into the Youth Team goal of the season nominations. Both against Hull City, on separate occasions. The first came in the FA Youth Cup. A spectacular 40 yard lobbed volley after a sublime first touch. The second was, what is hopefully soon to become a trademark free kick into the top corner. He too has already made his first team birth in FA Cup and Johnstones' Paint Trophy fixtures.
The chairman also added extra weight behind the youth players by saying he will not sign players if it means stunting the progress of the club's youth. A statement I could not agree with more. A team that plays exciting, attacking football like we do should have a team containing four, five or six youth team graduates in the starting XI. So expect to see a lot more of Anderson and Conlon throughout this season, and I for one am happy to hear it.
But is it just the team that give us reason for optimism for the new season? Of course not!
I, somewhat controversially, believe that the manager Darren Ferguson signing a new three year contract will be good for the club.
Now, those who know me or follow me on twitter may be thinking that I'm a massive hypocrite for saying that. I admit, I was part of the 'Fergie Out' crusade throughout last campaign, and I do think he should have gone at the end of the season. But, I also think that he, and the rest of the club, took League One too lightly last season. They thought they would just walk through it. And that is, I'm hoping, going to act as a wakeup call for EVERYONE at the club.
So I implore every member of the 'Fergie Out' crew to, like me, wipe the slate clean. I will now only judge the manager on the decisions he makes this season. Forget about all the "he should have been promoted" and the "that's the most expensive squad we've had". At the end of the day, the Chairman has made the decision to offer Ferguson a new, three year contract. We may not agree with it! I know I didn't when I first heard about it. But it has happened, and I think we owe it to the Chairman to trust his decision making.
As I finish this season preview, The Posh kick-off their pre-season fixture list away to Barnet. And looking at the players on the team sheet, I can't help but feel a tingle of excitement at what the season has in store. Three complete sides of Posh fans at London Road. A new all seater stand, new management staff, new tactical approaches. But one thing will stay the same. It's going to be thrilling!