It has been reported in The Gazette that Blackpool FC have offered former Chelsea man Jacob Mellis the opportunity to train with Jose Riga's first team in an attempt to try and impress the newly hired Pool Boss.
Mellis has recently turned down a new contract 2-year-deal from Barnsley who after giving him an extended period to decide upon his future are believed to have withdrawn the offer from the table. This has left Mellis in search of a new club before the start of the new season.
The 23-year-old started his career with Sheffield United at youth level before being signed onto Chelsea's books back in June 2007 for a fee of £1m. During his 5 years with Chelsea he was unable to break into the first team and was sent out on loan twice.
In August 2009, he was sent out to Southampton for a 5-month loan where he made 12 appearances for the south coast club. When he returned to the club in 2010 he made his only appearance in the the senior squad coming off the bench in Chelsea's UEFA Champions League game against MŠK Žilina in added time.
In January 2011, Mellis was loaned out to at the time Championship club Barnsley. During his time with the club he appeared 15 times getting on the score sheet 2 times.
In March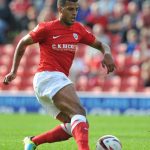 2012, Mellis was sacked by Chelsea after he admitted to setting of a smoke grenade for a prank within the reserve-team dressing room causing an instant evacuation of the building and fire marshals to be brought in. He was sacked with immediate effect and became a free agent leaving Barnsley free to sign him back on a permanent basis on a 2-year deal, during his second spell at the club Mellis appeared 74 times, grabbing 8 goals.
It is also reported that he is was one of four traillists within the training session looking like Blackpool are on there way to rebuilding a full first team squad.