Preston North End have re-signed Leicester City forward Paul Gallagher on a season-long loan deal.
Gallagher returns to the Lancashire club after a successful spell at the League One club last term, where he managed to notch up 10 goals & 12 assists in 35 appearances.
The Scottish international join'd Leicester City from Blackburn back in Aug 2009. After enjoying three seasons playing for the Fox's he found himself out of contention of the first team & was loaned out to Sheffield United on a month-long loan where he made 6 appearances in the 2012-2013 season. This will be now be Gallagher's third spell with PNE. 

After the unveiling of his latest move here is what the he had to say about the move on his personal twitter account: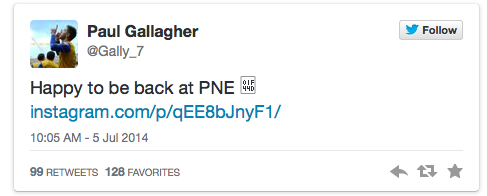 The 29-year-old has no re-call clause within the loan which allows him to stay the whole season uninterrupted which also means he may well of played his last game for the Fox's due to his contract expiring next summer.
The Lilly-whites made the Play-offs last season & will be hoping that Gallagher will yet again be the creative spark they require to make another push for promotion in the up and coming season.