Is Nottingham Forest's season over? Have they ruled out a last minute dash to the play offs? It would certainly seem so after they opted to give rookie manager Gary Brazil the job until Stuart 'Psycho' Pearce takes over in the summer.
As a fan, I honestly cannot understand the decision to throw this season aside when we are only two points off the play offs spots. I get that Pearce has some issues to take care of before he can give us his undivided attention to Forest but rather than put a man who has little management experience (especially at this level) why not give it to someone that may be able to get us over the line?
The likes of former red Brian Laws and to a lesser extent Peter Reid both said they'd have loved to come in for the last eight games and that it was a fantastic job to take. Neil Warnock said the same but couldn't agree with chairman Fawaz al-Hasawi and ultimately that deal deteriorated.
All three were dead right though. It is a fantastic job. With the likes of Henri Lansbury, Andy Reid and Kelvin Wilson (arguably our three best players) all set to return from long term injuries this weekend to face Millwall there is a very real chance of a late surge into the play off spots.
This looks unlikely, however, as the man in charge really doesn't have the experience or know-how to do so. A lot of fans have praised him for an improved performance against Ipswich on Saturday, but all that we did better was actually find the net and that we didn't lose. The game seemed very 'Billy-ish' with regards to how we took a lead and then chose to sit back on it for much of the game. Once or twice, we hit the Tractor Boys on the counter and fair enough we looked threatening but that was bound to happen with the pace of Jamie Paterson and Jamie Mackie up top.
I just feel that a more experienced manager would have known that when we were 1-0 up with twenty minutes to go, a calm head needed to be brought on from the bench to keep possession in our favour or even a big man such as Darius Henderson to hold the ball up in Ipswich's half and to help defend set pieces.
We were unable to do either as our bench included two academy graduates yet to make their first team debuts and two players who have probably had about 30 minutes of championship football between them in the last two months or so in the shape of Marcus Tudgay (recently recalled from Charlton) and Dan Harding.
Brazil hinted that some first team players didn't make the squad 'on choice' and that worries me when you see Simon Cox on the bench, despite not scoring for two months now and Henderson nowhere to be seen. The latter was taken off on Tuesday's defeat to Charlton after looking the most likely to score for us.
I let that one slide initially, because I told myself Brazil wasn't really a manager and come the next game we would have someone with proper credentials to take over and even in the Ipswich game I was glad he gave youngster Ben Osborn a debut (something that should have happened much sooner due to our midfield injuries), but if we are to make a late play-off push, are untried youth players really what we need?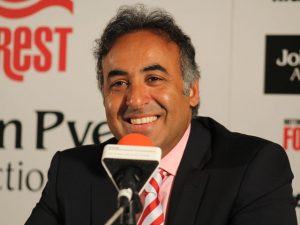 The tone of this article might sound like I have an axe to grind with Gary Brazil, but far from it. I recognise that he must be working extremely hard to run both first team and academy affairs for our great club, however you have to question why the powers that be have decided that that is what is for the best. It is not as though Fawaz is short of money and couldn't afford to bring in a temporary manager (as was his initial plan), but even after Pearce accepting the job, he really should be looking for someone to come in even if its just as an assistant manager to advise Brazil on tactical matters, as he has shown in his two games that he can be a little naïve.
I'm happy to eat my words, should we reach the play-offs and with the return of a few first team players it is well within our reach with the likes of Reading and Brighton showing inconsistency. The team that actually look like they may sneak 6th place is Bournemouth who are flying at the moment. The partnership of Kermorgant and Grabban is doing wonders and it hurts to see a team so free scoring at the moment.
If the message at Forest is 'look forward to next season under the new manager and write this one off' then it has been received, loud and clear, but let's just remember that writing off this season could well cost us in the long term. Psycho is not a miracle worker and results won't necessarily come about immediately and then some fans may just think 'what could have been'.