Cheltenham Town 1 – 4 Chesterfield
A mad 7 minutes allowed Chesterfield to once again open their gap on chasing pack as Cheltenham's last hopes of a play off push were ended. With the away side going down to 1-0 defeat at strugglers Wycombe at the weekend and Cheltenham winning away at play off chasers Newport this game was set up to be a cracker and it didn't fail to deliver.
The game started off fairly open with the away team dominating the possession, however said possession didn't lead to any real chances. As the game came into life Cheltenham won themselves a corner that frontman Harrison may have felt he should have scored from, but as Tommy Lee gathered the ball he sparked the game into life as Chesterfield broke with Gary Roberts who capitalised on an error in the Robins defence, before crossing excellently to pick out Dan Gardner at the back post who produced a brilliant volley to put the ball past Cheltenham keeper Brown. Almost straight after the kickoff Chesterfield won the ball again as Ollie Banks played in Eoin Doyle who came up with another superb finish into the roof of the net. Almost another minute later on 26 minutes a mistake in the Cheltenham defence allowed Banks himself this time to place the ball brilliantly passed the despairing Brown into the far corner. The misery got worse another 3 minutes later when Chesterfield won a corner and Dan Gardner drilled the ball in for young defender Liam Cooper to head into the net again.
After this mad spell that saw the game become pretty much over, it started to settle down as Chesterfield relaxed and Cheltenham tightened up at the back. This continued into the second half as the game really started to fizzle out, Cheltenham did manage to pull a goal back through a Byron Harrision header from a corner, but there wasn't to be a comeback as Chesterfield kept the ball very well and saw the game. Both teams did miss chances in a game that on reflection could have been 3-8 but Chesterfield's quality in the final third of the pitch showed in a an unbelievable 7 minute spell.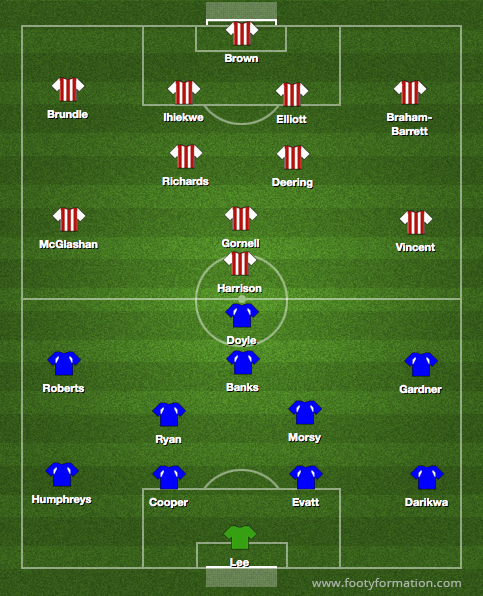 Cheltenham
| | |
| --- | --- |
| Scott Brown Despite what the scoreline may suggest the Cheltenham keeper didn't have too bad a game, made a couple of good saves in the second half. | 6.0 |
| Mitch Brundle The on-loan full back was at fault for the first goal as the ball bounced over his head but he did fairly well in keeping Roberts quiet. | 5.5 |
| Michael Ihiekwe Another defender on loan that dealt well with any aerial balls but struggled against his opponents movement. | 5.5 |
| Steve Elliot Played in a similar way to his defensive partner as he looked strong but slow. | 5.5 |
| Craig Braham-Barrett Did fairly well in keeping Gardner quiet but the 4 goals speek for themselves. | 5.5 |
| Matt Richards Tried to get his side playing but had little options when he got on the ball. | 6.0 |
| Sam Deering Looked lost in the middle of the park but worked hard for his side. | 6.0 |
| Jermaine McGlashan Provided very little threat going forward and failed to trouble the Spireite defence. | 5.5 |
| Terry Gornell Probably the home teams brightest spark going forward, especially in the first half as he managed to find gaps in the Chesterfield defence. | 6.5 |
| Ashley Vincent Much like McGlashen he provided little threat to the Chesterfield defence. | 5.5 |
| Byron Harrison Had a couple of chances and managed to score but it wasn't his most effective game. | 6.0 |
Substitutions
| | |
| --- | --- |
| Zack Kotwica Provided very little threat in a dead game after coming off the bench. | 5.0 |
| Jamie Cureton Like Kotwica the ex-Exeter man provided little threat after coming on. | 5.0 |
| Jason Taylor Came into the game very late and had little time to make an influence. | 5.0 |
Chesterfield
| | |
| --- | --- |
| Tommy Lee A fairly quiet game for the Chesterfield keeper but he did pull off a couple of great saves to deny a comeback. | 7.5 |
| Tendayi Darikwa A very solid game at full back who kept Vincent very quiet for the entire game. | 8.0 |
| Ian Evatt A superb performance from the experienced centre half, his manager Cook claimed it was one of the best performances from a defender he'd ever seen. | 9.0 |
| Liam Cooper Another good game for the young defener who capped off his performance with a well taken header at the front post. | 7.5 |
| Ritchie Humphreys The experienced full back used his experience to keep the lively McGlashen out the game. | 7.5 |
| Sam Morsy Very rarely gave the ball away and worked hard in winning the ball back for his side. | 8.0 |
| Jimmy Ryan A solid game for the midfielder who kept his side moving the ball around. | 7.5 |
| Dan Gardner A goal and an assist in another good game for the young winger. | 7.5 |
| Ollie Banks A brilliantly taken goal and a great ball to set up Doyle for the Spireite's second. | 7.5 |
| Gary Roberts A fantastic cross to set up Gardner for the opening goal and could have scored himself late on. | 7.5 |
| Eoin Doyle Worked hard for his side and deserved his well taken goal. | 7.5 |
Substitutions
| | |
| --- | --- |
| Armand Gnanduillet A poor game for the big man as he failed to make an impact. | 5.5 |
| Sam Hird Did a job in breaking up any Cheltenham pressure and kept the ball well. | 6.5 |
| Sam Togwell Missed a sitter very late on but made a couple of good tackles. | 6.0 |
Man of the Match
| | |
| --- | --- |
| Ian Evatt The ex-Premier league defender really showed his class putting in a perfect display. | 9.0 |
Highlights