Southend United 3 – 0 Chesterfield
The first 25 minutes was a fairly cagey affair with neither team giving too much away, however a cross field ball from new signing Luke O'Neill forced an error from Spireite full-back Drew Talbot who allowed Anthony Straker to capitalise before powering his way into the box and rolling the ball across the six yard box to ex-spireite Kevan Hurst to tap into an open goal.
The only other talking point of the first half was a penalty claim for Chesterfield as Gary Roberts fell in the area after a well worked move, the referee waved play on.
As the teams came out for the second half Chesterfield started off looking more likely to score than their opponents, however a lot of possession failed to create any real chances, as the Derbyshire side looked for an equaliser they switched to 442 with the introduction of Armand Gnanduillet. This was possibly Paul Cook's biggest mistake of the game as just 2 minutes after the change in formation United scored a second goal as Ryan Leonard broke through on the counter to put the ball past Tommy Lee in the Chesterfield goal. The misery then get even worse for the Spireites, as just  2 minutes later a ball down the line from first half substitute Adam Thompson played Barry Coor through to seal the game for The Blues.
Chesterfield continued to press on as Gary Roberts won a penalty for the losing side when he was brought down by Kevan Hurst. Marc Richards, the clubs leading scorer stepped up but was denied by a fantastic save from the Southend keeper Daniel Bentley who dived low to his right.
Chesterfield then went on with a 'nothing to lose' attitude as they looked for a way back into the game, but the Southend defence remained strong with Bentley again pulling off a couple of fantastic saves. In all Southend deserved their win however the penalty miss from the away team could have been a real turning point in the top of the table clash.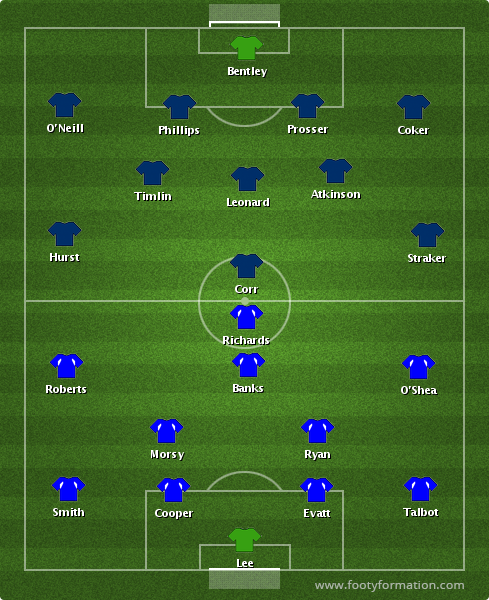 Southend United

| | |
| --- | --- |
| Daniel Bentley A string of great saves towards the end of the second half including a fantastic penalty save to deny Marc Richards. | 8.5 |
| Luke O'Neill  A good start to his Southend loan spell cut short by injury. Played a great cross field ball to Anthony Straker helping to provide the break through. | 6.5 |
| Ben Coker Constant energy up and down the left-hand side, kept the Chesterfield right hand side very quiet throughout the game. | 7.0 |
| Mark Phillips Dealt with the Chesterfield attack very well keeping them quiet for large periods of play. | 7.0 |
| Luke Prosser Similar to Phillips dealt with Marc Richards very well both in the air and on the ground. | 7.0 |
| Ryan Leonard The engine room for Southend in the centre of the park, moved the play forwards resulting in a well deserved goal for the skipper. | 8.0 |
| Will Atkinson Solid game for the midfielder, kept the ball moving and rarely gave it away. Did well in keeping Jimmy Ryan quiet. | 7.0 |
| Michael Timlin Similar to his midfield partner Atkinson kept the ball way and did a job on keeping playmaker Ryan quiet for the most part of the game. | 7.0 |
| Kevan Hurst Worked hard for his side and made plenty of good runs opening up space for the three behing to move into. Deserved his first half goal. | 7.5 |
| Anthony Straker Did well in creating the first goal for his side, faded in and out the game. | 7.0 |
| Barry Corr Old-fashioned centre forward doing his job leading the line. Held the ball up well allowing Hurst and Straker into the game, deserved his goal. | 7.5 |
Substitutions
| | |
| --- | --- |
| Adam Thompson Played well as a first-half substitute, supplied a good ball down the line for Corr's second half goal. | 6.5 |
| Cauley Woodrow Not a lot of time to have an influence on the game, helped to deal with the late pressure. | 6.0 |
| Freddy Eastwood Again not much time to have an influence, kept the ball well. | 6.0 |
Chesterfield

| | |
| --- | --- |
| Tommy Lee Didn't make too many saves, couldn't have done a lot more to prevent the Southend goals. | 5.0 |
| Drew Talbot At fault for the first goal, didn't provide a lot going forward for Chesterfield. | 5.0 |
| Liam Cooper Dealt well with Barry Coor, looked a strong part of the Chesterfield defence. | 6.0 |
| Ian Evatt Struggled slightly with the pace of the Southend attacks, however won a lot of aerial balls. | 5.5 |
| Nathan Smith Did well in keeping Kevan Hurst quiet for large parts of the game, lacked conviction in the final third. | 6.0 |
| Sam Morsy Kept the ball well for Chesterfield, an early booking restricted him from dominating the midfield. | 6.0 |
| Jimmy Ryan Struggled on a cut-up pitch to make his mark in the midfield, misplaced a string of passes. | 5.0 |
| Jay O'Shea Struggled against the energetic Coker who kept him quiet before being replaced in the seocnd half. | 5.0 |
| Ollie Banks A few bright sparks for the youngster but failed to make a lasting impact. | 5.5 |
| Gary Roberts Chesterfield's man of the match, won the penalty and was the creative influence for the Spireites in the second half. | 7.0 |
| Marc Richards Made some good runs in the first half but the penalty miss summed up his day. | 5.5 |
Substitutions
| | |
| --- | --- |
| Armand Gnanduillet Did well in linking the play between the midfeld and attack. | 6.0 |
| Dan Gardner Wasn't on the pitch for long but created a few chances for the visiting side. Denided a goal by a great Bentley save. | 6.5 |
| Eoin Doyle Had a couple of chances but struggled with the physical presence of the Southend defence. | 5.5 |
Man of the Match
| | |
| --- | --- |
| Daniel Bentley A great penalty save followed by a string of other saves sealing the game for the Essex side. | 8.5 |