With both teams not winning on their last outing, a win was needed for to reinvigorate both Sheffield United and Bradford's seasons. The home side's last league win came back on the 29th December after a 3-1 victory over Tranmere Rovers. However, the visitors haven't won since the 23rd November after they beat Karl Robinson's MK Dons 3-2.
It started evenly with both teams conceding unnecessary fouls. But the first chance fell to the visiting Bantams. James Hanson saw his header saved by young Sheffield United keeper George Long. With that attempt, the Blades seemed to prick up their ears and have a go themselves. And it paid off. Lovely passing football tore open the Bradford back line and the ball fell to Scottish winger Jamie Murphy, who made no mistake from close range.
From then on in it was an extremely open and free flowing game. Chances fell for new signing Aaron McLean, Rory McArdle and Carl McHugh who all saw their efforts either saved, blocked or put high or wide. Nervy times for the Sheffield United supporters who saw their team lose to fellow strugglers Notts County last weekend. From that point onwards, however, Sheffield United were in total control of the match, creating chances at will and their efforts were rewarded with top goalscorer Harry Maguire getting his head onto a corner and planting it into the Bantams goal.
Bradford came out from the break fighting, and 10 minutes into the second half, it seemed as if Lady Luck was smiling down on the West Yorkshire side. Gary Jones thundered towards the Blades penalty area and finally he smashed a 25 yard shot with his right foot towards the goal. After taking a wicked deflection on the way through, Long was wrong footed and Bradford had pulled a goal back.
But Parkinson's side weren't finished yet. With Stephen McGinn conceding a freekick out on the left flank, Gary Jones turned provider by whipping in a delicious cross for James Hanson to get his right boot on. Hanson made no mistake from very close range.
Even after squandering a two goal lead, Nigel Clough's side were still producing chances that were testing the vulnerability of the Bradford defensive players as well as keeper Jon McLaughlin. But it just seemed as if it wasn't going to be for the struggling Sheffield club after Jamie Murphy, Shaun Miller and Neill Collins, amongst others, saw their efforts not find the back of the net.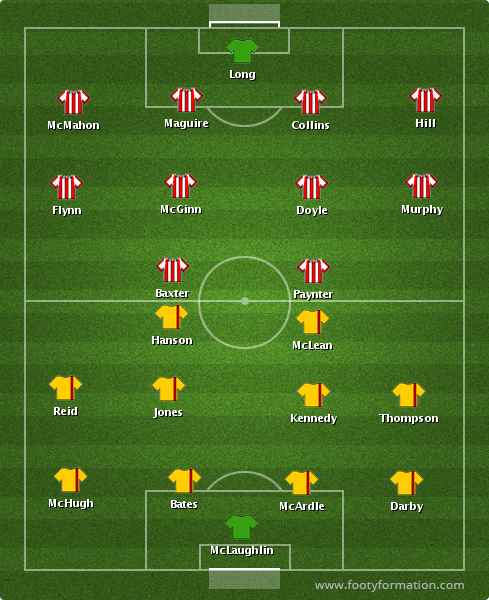 Sheffield United
| | |
| --- | --- |
| George Long – Didn't command his area well enough to prevent the second goal. Had a quiet game.  | 6.5 |
| Tony McMahon – Ran the flanks well. Defended well. Some misplaced passes.  | 7.5 |
| Harry Maguire – Defended well. No real faults. Had a quiet game also.  | 7.0 |
| Neill Collins – Defended well. Communicated well. Showed his experience.  | 7.5 |
| Matt Hill – Didn't defend to capacity. Coped well with his man.  | 7.5 |
| Ryan Flynn – Led the wings brilliantly. Played some good balls in.  | 8.0 |
| Stephen McGinn – Put a shift in. Worked hard to retain possession.  | 8.0 |
| Michael Doyle – Captained his side well. Worked hard. | 8.0 |
| Jamie Murphy – Ran Steven Darby all over the park. Worked his socks off. | 8.5 |
| Jose Baxter – Didn't do as well as other games. Had efforts stopped though. | 7.5 |
| Billy Paynter – Held up play well. Had efforts stopped. Worked hard.  | 8.0 |
Substitutions
| | |
| --- | --- |
| Conor Coady – Didn't have much pitch time. Played well when needed. | 7.0 |
| Chris Porter – Headed a few balls onto fellow striker. Failed to impress really. | 7.0 |
| Shaun Miller – Didn't play long. Showed pace and ideas though. | 7.5 |
Bradford City
Jon McLaughlin – At fault for the second goal. Made some good saves though.
7.5
Steven Darby – Struggled to handle Jamie Murphy. Booked as well.
6.5

Kyle Reid –

Fast feet but failed to capitalise

. Injured in the first half.

 

6.5
Jason Kennedy – Quiet first half. Some bad tackles. Booked as well.
6.0
James Hanson – Good in the air. Held the ball up well. Scored Bradford's equaliser.
7.5
Garry Thompson – Didn't pipe up much throughout the game. 
6.0
Carl McHugh – Some poor control. But cleared well. 
7.0
Gary Jones – Didn't do much in the first half. But scored a 25 yard deflected shot. 
7.5
Aaron McLean – Kept pretty quiet by the defenders. Subbed. 
7.0
Matthew Bates – Sloppy tackles. Threw himself around well.
7.0
Rory McArdle – Solid most of the time. Defended well. 
7.5
Substitutions
| | |
| --- | --- |
| Mark Yeates – Poor closing down to United players.  | 6.0 |
| Nathan Doyle – Got booked with his first touch. Kept Quiet.  | 6.0 |
| Andy Gray- Came on too late to make an impact. | 5.0 |
Man of the Match
| | |
| --- | --- |
| Jamie Murphy – Never stopped running. Played really well and scored the first goal.  | 8.5 |